Orange Monarch Flying Butterfly
Our Orange Monarch wind up flying butterfly is one of the most popular models and is good for any and all occasions. Whether it's a birthday party, school event or just for fun, our Orange Monarch wind up flying butterfly is a great way to make your message fly! Considering all the love, laughter, and smiles they create, we have no doubt you'll think they are well worth every penny!

You Wind It Up About 30-35 Times and Watch It Fly (See Video)
Size is 5 inches Tall x 4 Inches Wide
Fits Inside Any Standard 5x7 Greeting Card

 

(Card Not Included)
Comes Individually Packaged With Instructions

 

(Not Prewound)
Also Can Be Used in Books, Invitations,

 

iPad Cases, Magazines or Anything Else!
Fun For Kids of All Ages - Use Them Again & Again!
Get A

 

Flaw Free Guarantee

 

(Not available On All Items)
Delivery in 7 Business Days or Less (See

 

Shipping Policy

 

Page)
* Greeting Card Not Included
** This product is not suitable for all ages, circumstances or situations. Please read the disclaimer on the package before using this product.
Customer Reviews
I love these!
If you are looking for something that creates an element of surprise and laughter, this is it. I love these. Will order again. Quick delivery. All around wonderful.
Thanks so much for your awesome review of our wind up flying butterfly. We love making people laugh!
Orange Monarch Wind-up Butterflies
These worked beautifully and were so life like! I wound them per the instructions and they flew out of my cards with no problem. And my friends who opened their cards truly enjoyed them. I let them keep them as part of their gift, even though I have to admit it was hard to part with them. I'm already planning on getting some more for myself!
07/10/2020
Karen F.
United States
Beautiful but disappointing
First let me say that they are beautiful, but I was so disappointed when they didn't fly. I ordered a 10 pack for a very special party and after trying to get them to fly as advertised I decided not to use them. I would advise anyone ordering to be realistic in your expectation. They are truly beautiful and the quality of the product is good.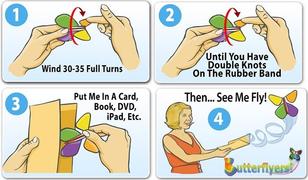 So sorry you're disappointed. Most people love them and theirs fly great. Just read all the 4 & 5 Star reviews on our website or on FB! The ones you see fly in our videos are identical to the ones we ship out to hundreds of people each and every day. The only difference is who is winding it and how it's wound.  May we ask, did you watch this video regarding the proper way to wind your Butterflyer to get maximum flying effect (https://bit.ly/2qgEbOT) and this one on how best to place them in a greeting card (https://bit.ly/2DSGezJ)? The links to both of these videos were sent to you in the shipping and order confirmation emails you received. 99% of the time when people say their Butterflyer isn't flying so well, it's because they are not winding it correctly. In short, you want to be 100% for sure you are winding 30-35 full turns and that you have an entire row of double (almost triple) knots on the rubber band. Remember, the rubber band is the engine that propels these things. So, if you do not wind it enough, they will not fly very well because it won't get enough lift. Please, for your own sake, if you haven't watched the two tutorial videos above yet, take two minutes to watch them both. If you have already watched them, watch them again and this time, wind the Butterflyers while you watch the videos. It makes a huge difference when you do it exactly the way we show you in these two videos. Let us know if this helps any. We hate for anyone to be disappointed in our product.
07/06/2020
Kelly I.
United States
They worked great!
They surprised my daughter! We got a good laugh!
TC
06/27/2020
tina C.
United States
Butterflyers
they are wonderful i love them
Clearance Items - As Low As $1.00!