I Love You Magic Flying Butterfly
Let your love fly and show that special someone how much you care with our I Love You wind up, magic flying Butterfly. This wind up flying paper butterfly is perfect for anniversaries, Valentines Day, Mother's Day, Birthdays and more!
Wind It Up About 30 Times and Watch It Fly (See Video)
Size is 5 inches Tall x 4 Inches Wide
Perfect For Birthdays, Christmas, Mother's Day, Valentines, Easter, Weddings, Parties and Many Other Occasions
Fits Inside Any Standard 5x7 Greeting Card
Use in Books, Invitations,

 

iPad Case, Magazines or Anything Else!
Fun For Kids of All Ages -

 

Use Them Again & Again!
Comes Individually Packaged With Instructions
Get A Flaw Free Guarantee (Not available On All Items)
Delivery in 7 Business Days or Less (See

 

Shipping Policy

 

Page)
* Greeting Card Not Included
** This product is not suitable for all ages, circumstances or situations. Please read the disclaimer on the package before using this product.
Customer Reviews
02/08/2019
Joann H.
Canada
Butterflies
Odered 2 butterflies and think they are awesome!! Tested them and they flew very well out of a card. Delivery was quick and the butterflies were pack well so they would not get damaged during delivery. They also included an easy to read direction pamphlet in the package. Would definitely order again and suggest to others! Worth the small cost that they charge. Thank you !
Thanks so much for your awesome review of our wind up magic flying butterfly. We try very hard to produce a great product, a low price and excellent service. So grateful people notice and appreciate it!
06/26/2017
Martha O.
United States
5 star plus
My experience in using these Butterflyers are wonderful. I love the expressions on everyone's face as soon as the card was open. Moments to catch on video. I love the construction of these Butterflyers. Light weight and a lower price than their competitors. I will be ordering more in the future.
02/17/2020
Lars J.
United States
Critic
It was very interesting, however the flying exit from a card as it opened was a bit disappointing. Was also surprised that it didn't come with a card and envelope!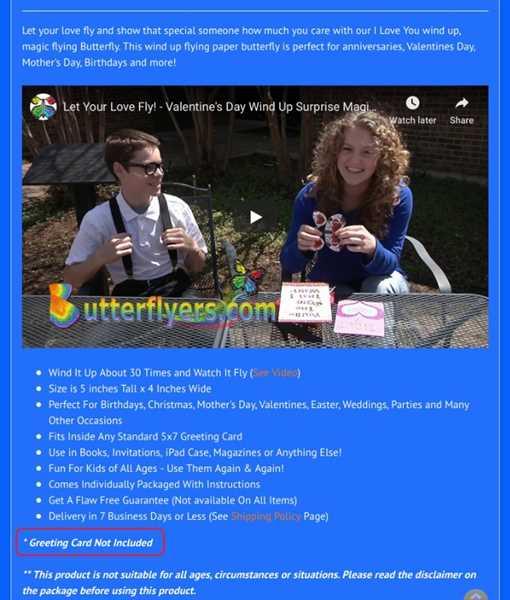 We read your review about your Butterflyers not flying so well and not getting a card too! So sorry you're disappointed. On every product description it clearly says, "Greeting Card Not Included" (see attached). I guess you must have missed that. As for them not flying well, most people love them and theirs fly great. Just read all the 4 & 5 Star reviews on our website or on FB! The ones you see fly in our videos are identical to the ones we ship out to hundreds of people each and every day. May we ask, did you watch this video regarding the proper way to wind your Butterflyer to get maximum flying effect (https://bit.ly/2qgEbOT) and this one on how best to place them in a greeting card (https://bit.ly/2DSGezJ)? The links to both of these videos were sent to you in the shipping and order confirmation emails you received. 99% of the time when people say their Butterflyer isn't flying so well, it's because they are not winding it correctly. If you haven't watched them yet, please take two minutes to watch them. It makes a huge difference when you do it exactly the way we show you in these two videos. In short, you want to be 100% for sure you have a entire row of double knots on the rubber band. Please let us know if this helps any. We hate for anyone to be disappointed in our product.
02/14/2020
Michael M.
United States
surprise
the wife loved it, but was startled when she opened the card. they do catch people off guard
Thanks so much for your awesome review of our wind up flying butterfly. So glad you and your wife loved them! We are committed to creating a cool, creative and colorful product that brings miles of smiles to the masses!
02/09/2020
Susan R.
United States
Fun Fun Fun!
I got these to put in the Valentine cards for my grandchildren, nephews & nieces! I hope they put as big a smile on their faces as they did mine.
Thanks so much for your awesome review of our wind up magic flying butterfly. We love helping put a smile on people's faces!
Clearance Items - As Low As $1.00!